CVS Features Two of JSSA's Specialized Employment Services (SES) Placements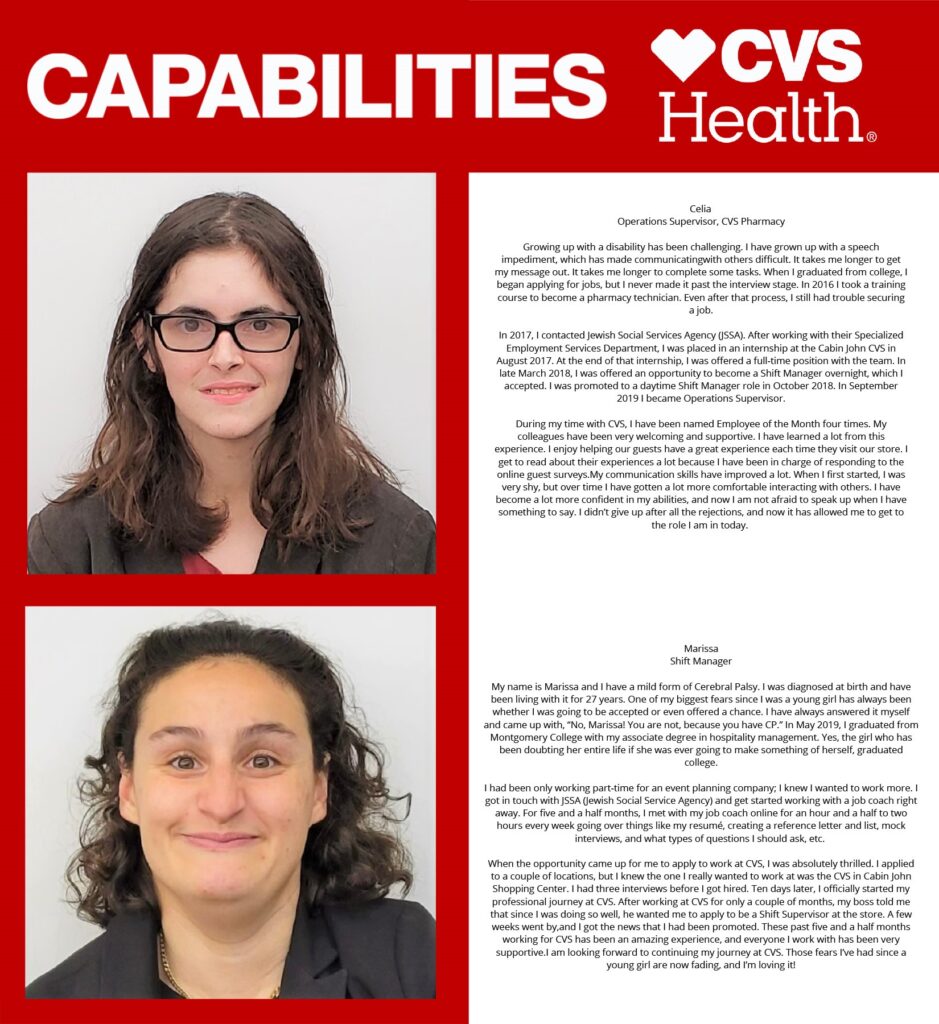 As part of JSSA's mission, our Specialized Employment Services (SES) are offered to individuals with autism and other disabilities. JSSA's comprehensive employment package empowers adults with disabilities to secure competitive wage jobs and thrive in the workplace. JSSA is proud to be a longtime partner with CVS, where SES participants Celia and Marissa have excelled in their careers.
We are thrilled to announce CVS showcased both Celia and Marissa in its recent Capabilities newsletter, portraying how Celia earned numerous promotions and is now a CVS operations manager and how Marissa received a promotion to Shift Manager.  Success stories like Celia's and Marissa's exemplify why JSSA stands out when placing individuals with disabilities in long-lasting careers. Employers like CVS approach JSSA because they value having a stable, talented workforce.
JSSA's SES program addresses employment challenges faced by individuals with disabilities, including an unemployment rate of over 70 percent nationally. SES works at two levels: we coach, train, and carefully match the abilities of the individuals we serve to the needs of businesses that, without JSSA's support, had been unsuccessful in accessing this valuable, underutilized talent pool.
In addition to being a leader in disability employment through its SES program, JSSA offers mental health care, support services for older adults, in-home health care, and hospice.
We are proud to share more good news – we are now expanding the SES program! The District of Columbia has approved SES to receive funded employment services to assist its residents. We will bring our strong record of providing job support and our extensive employer network developed in our work with Maryland residents to diverse communities in DC, helping boost the hiring of DC residents with disabilities.
Success such as:
Strong job placement and retention: Since 2014, we have placed over 600 individuals with disabilities in jobs. Our retention rate of nearly 90 percent means most stay in their positions.
Improved job quality: In recent years, more than 50 percent of our clients are placed in IT, office, and professional sectors rather than in grocery, custodial, or retail – where individuals with disabilities are traditionally placed almost exclusively.
With our community's continued support, JSSA can successfully expand its SES program throughout the DC metro area, allowing us to continue placing individuals with disabilities in fulfilling jobs and helping them find a path to economic self-sufficiency and independence.