As a care professional, you know that no matter what life brings, people deserve to be seen: by experts, and for who they are. 
For 30 years, JSSA has been providing high-quality training and continuing education to our community's mental health and social work professionals. We offer training focused on everything from cognitive behavioral therapy (CBT) practices to palliative care to ensure you continue to grow as a professional and receive the continuing education credits you need to maintain your licensure. 
Get in touch today to learn more about JSSA's professional development offerings: traininginstitute@jssa.org
CE TRAININGS:
JSSA Training Institute is proud to present our annual Mental Health Symposium: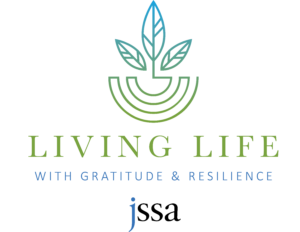 Living Life With Gratitude and Resilience – May 19, 2022
JSSA is pleased to celebrate May as Mental Health month and announce our annual virtual half-day Mental Health Symposium focusing on gratitude and resilience. These two traits tend to be easily overlooked, and how incorporating those with a variety of other strategies can ensure overall wellbeing.
While the last two years have been filled with uncertainty, loss, and isolation for some, they have also been a time to reflect, learn, manage, and grow. As we enter this year with continued uncertainty, a war, political unrest, etc., it is an excellent time to focus on living life with gratitude and resilience. These past two years have demonstrated that all of us can adapt to extraordinary circumstances and that there are many aspects of our lives that we can modify, control and grow with.
Gratitude is a simple act of being thankful and showing appreciation for what we have. A growing body of research indicates that gratitude can reduce stress and improve physical and mental health. There are many other benefits of gratitude and as many of us struggle to adapt to a new normal, practicing gratitude is more important than ever.
DATE: Thursday, May 19, 2022
TIME: 9:00 am-1:15 pm
This will be a live, real-time, interactive webinar. You will be sent a zoom link 24 hours before the seminar. So please be patient.
3.5 Category I CEs will be provided to all participants in the training
COST: $100
If you are JSSA staff and would like to register, please email Kiran at kdixit@jssa.org
Overall Symposium Learning Objectives:
Learn how gratitude can shape perspective
Understand that we build resilience and remain tenacious even in the face of adversity
Develop vocabulary and practices to incorporate gratitude and resilience in life
Learn additional coping strategies and techniques to live with uncertainty
SCHEDULE:
Welcome: 9:00 – 9:15 am
Keynote:   9:15-10:15 am – 1 hour: Dr. Anna Ordonez
Our keynote speaker is Dr. Anna Ordonez, Director of the Office of Clinical Research (OCR) at the NIMH.
OCR staff oversee NIMH-funded clinical research studies and strategic guidance and recommendations about clinical research initiatives. As the director, Dr. Ordóñez will be the principal clinical research advisor to the NIMH Director and NIMH leadership on human subject research protections, data and safety monitoring, and clinical trial operations.
Before joining NIMH, Dr. Ordóñez held a faculty position at the University of California, San Francisco (UCSF), where she was the medical director of the Division of Infant, Child, and Adolescent Psychiatry. She also conducted research studies on evidence-based interventions to enhance psychological resilience in schools in low-resource settings in the United States and Latin America.
Dr. Ordóñez completed her formal medical training at the Pontificia Universidad Javeriana in Bogotá, Colombia, followed by a postdoctoral fellowship in the NIMH Intramural Child Psychiatry Branch. She then completed her residency, clinical fellowship, a research fellowship in drug abuse treatment and services, and a Master of Advanced Studies in Clinical Research at UCSF. Dr. Ordóñez is board certified in Psychiatry and Child and Adolescent Psychiatry with the American Board of Psychiatry and Neurology.
10:15-10:25 10 Minute Break
WORKSHOPS
10:25-11:55 am  1.5 Hour – PICK ONE
Building Resiliency in Couples
Learning Objectives:
Gain an overview of how to engage couples in therapy
Learn skills to help couples manage during adversity
Understand the impact of the pandemic on couples, including racial and cultural factors
Presenters:
Lori Kolle, LCSW-C, Director, Outpatient Mental Health Services, JSSA &
Scott Kreeger, LCSW-C-, Director of Program Development and Business Operations, JSSA
Two Homes One Family
Learning Objectives:
Participants will identify elements of a resiliency-based, family-focused framework that allows children to express thoughts and feelings, strengthen family relationships, and understand the changing nature of their family.
Participants will review the application of resiliency principles and a strengths-based approach within a school-based program to address the needs of children experiencing separation and divorce.
Presenters:
Joseph Wilson, LCSW-C, Senior Director, Mental Health Services, JSSA
Active Aging: Helping Seniors Build Mental Health Resiliency During the Pandemic and Beyond
Learning Objectives: Participants will –
To gain knowledge about coping strategies for older adults without an informal support system.
To gain knowledge about coping strategies to support seniors with psychosis, delusions, and significant dysregulation.
To develop greater knowledge about strategies to enhance older adults' ability to mediate self-criticism, regret, and grief.
Presenters:
Rene Laje, Ph.D., LCSW-C,
Irene Mednick, LCSW-C
Shoshana Pearlman, LCSW-C
BREAK 11:55-12:05 pm 10-minute break
PRESENTATION 12:05-1:05pm – Dr. Bill Stixrud, Clinical neuropsychologist & Founder, The Stixrud Group
William R. Stixrud, Ph.D., is a clinical neuropsychologist and founder of The Stixrud Group, a lifespan neuropsychology practice. He is also a member of the Adjunct Faculty of the Children's National Medical Center. He holds a faculty appointment as Assistant Clinical Professor of Psychiatry and Pediatrics at the George Washington School of Medicine.
Additionally, Dr. Stixrud is a frequent lecturer, and he has authored scientific articles on Transcendental Meditation and book chapters on meditation and the integration of the arts into education. Dr. Stixrud has often been quoted in publications including The New York Times, The Washington Post, The Times of London, Scientific American, Time.com, NPR, The Wall Street Journal, Businessweek, Barron's, and Vogue. Dr. Stixrud holds a doctorate in School Psychology from the University of Minnesota. He did his training in neuropsychology at the Children's Hospital of Boston (as a fellow of the Harvard Medical School) and Tufts New England Medical Center. Dr. Stixrud is also a rock and roll musician and plays in the band Close Enough.
1:05-1:10- Survey/Thank you
 If you are JSSA staff and would like to register, please email Kiran at kdixit@jssa.org
3.5 Category I CEs will be provided to all participants in the training
Training Institute Policies: 
Refunds for JSSA's CE training program cancellations are provided up to 5 days prior to the training date. After that time, a credit can be issued if JSSA receives a registrant's cancellation up to two business days prior to the training date. This credit can be applied towards a future 3-Hour CE training, symposium, or post-graduate course up to one year from the issue date. 
Authorization: 
The Jewish Social Service Agency (JSSA) is authorized by the Maryland Board of Social Work Examiners to sponsor Category 1 continuing education programs. The D.C. and Virginia Boards of Social Work usually recognize the Maryland Board of Social Work Examiners' approval. Please contact your state board for verification. JSSA maintains responsibility for its program content. 
JSSA is an approved sponsor of CE credits for psychologists in Maryland under the Maryland Department of Health and Mental Hygiene. JSSA maintains responsibility for its program content. 
JSSA has been approved by NBCC as an Approved Continuing Education Provider, ACEP No. 6457. Programs that do not qualify for NBCC credit are clearly identified. JSSA is solely responsible for all aspects of the programs. 
In order to receive a certificate, registrants must attend the entire session.