As a care professional, you know that no matter what life brings, people deserve to be seen: by experts and for who they are. 
For 30 years, JSSA has provided high-quality training and continuing education to our community's mental health and social work professionals. We offer training focused on everything from cognitive behavioral therapy (CBT) practices to palliative care to ensure you continue to grow as a professional and receive the continuing education credits you need to maintain your licensure. 
Get in touch today to learn more about JSSA's professional development offerings: traininginstitute@jssa.org
CE TRAININGS:
When Anxiety Affects Education – Evidence-Based Treatment for School Refusal
DATE: FRIDAY, SEPTEMBER 30, 2022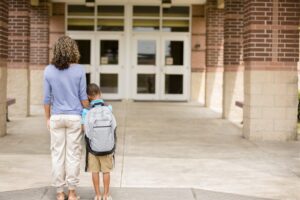 TIME: 9:00 AM – 12:15 PM
COST: $70
3 CE'S – This will be a live, real-time, interactive Webinar. A ZOOM link will be sent to you 24 hours before the training.
DESCRIPTION:
This presentation will focus on effective, evidence-based treatment for anxiety-based school refusal. We will discuss the core features of effective treatment, including diagnostic, dimensional, and functional assessment of school refusal behavior, as well as comprehensive treatment, including individual exposure-based therapy, school consultation, and comprehensive parent training designed to lower family accommodation of anxiety and to facilitate a rapid return to school.
LEARNING OBJECTIVES: PARTICIPANTS WILL BE ABLE TO: 
1. Demonstrate knowledge of epidemiological data regarding the prevalence and course of anxiety and related disorders in school-age youth.
2. Display understanding of the central role of avoidance in maintaining disordered anxiety among students, including school refusal behavior.
3. Demonstrate knowledge regarding evidence-based interventions for youth exhibiting anxiety in school.
4. Demonstrate knowledge of school-based interventions that assist in the re-entry and sustained attendance of youth exhibiting school refusal behavior.
TRAINER:
Dr. Dalton is a licensed psychologist who founded the Center for Anxiety and Behavioral Change (CABC) in Rockville, MD, and McLean, VA, in 2011. CABC is a specialty psychology practice staffed with licensed psychologists and trainees who specialize in the evidence-based treatment of children living with anxiety disorders.
He received his undergraduate degree in psychology from Villanova University, a master's degree in psychology from The Catholic University of America, and a doctorate in clinical psychology from Fordham University with a specialization in child and family psychology. He completed two years of pre-doctoral training at the Johns Hopkins School of Medicine – Kennedy Krieger Institute and advanced postdoctoral training at the Maryland Center for Anxiety Disorders at the University of Maryland.
He specializes in treating anxiety disorders in children and teens, focusing on anxiety-based school refusal. He frequently lectures and trains other mental health professionals on the treatment of anxiety and related disorders and consults with independent schools and school systems to reduce the effect of anxiety upon students.
DSM-5-TR: What You Need to Know
DATE: TUESDAY, OCTOBER 25, 2022
TIME: 9:00 AM – 12:15 PM
COST: $70
3 CE'S – This will be a live, real-time, interactive Webinar. A ZOOM link will be sent to you 24 hours before the training.
DESCRIPTION:
The updates to the diagnostic criteria and text in DSM-5-TR are essential to physician and non-physician behavioral health practitioners, clinicians, counselors, researchers, and other stakeholders in the behavioral health field. The updates allow users to stay abreast with advances in the field and how they may impact patient diagnosis and care. As such, DSM-5-TR provides updated, streamlined, and clarified diagnostic criteria, where necessary, and updated prevalence estimates and information about risk and protective factors as well as prognosis across all diagnoses. For example, the addition of Prolonged Grief Disorder will likely be of great value, especially during the COVID time when many have lost loved ones and were unable to say goodbye and mourn in their usual way. The updates regarding culture, race, and discrimination are essential and time-sensitive and provide a stepping stone towards a more culturally sensitive diagnosis and care for patients with mental and substance use disorders.
LEARNING OBJECTIVES: PARTICIPANTS WILL BE ABLE TO: 
1. Understand changes to criteria and text of select DSM disorders, including the rationale for including prolonged Grief Disorder (PGD) in the DSM
2. Understand the DSM revision process, including DSM-5-TR
3. Understand how DSM-5-TR addressed issues related to culture, race, and discrimination
TRAINER:
Diana E. Clarke, MSc, Ph.D., is the Director of Research and Senior Epidemiologist/Research Statistician at the American Psychiatric Association. In this role, Dr. Clarke continues to co-lead efforts to oversee the maintenance of the Diagnostic and Statistical Manual, now in its Fifth Revision (DSM-5). Dr. Clarke previously served as the epidemiologist/research statistician on the DSM-5 revisions and led the training of field trial clinicians on changes to DSM-5 from DSM-IV.
As a Research Statistician/Epidemiologist, she utilizes interesting combinations of various statistical techniques (e.g., Path Analysis, SEM, growth curve modeling, survival analyses, GEE modeling, uni- and multidimensional IRT) as well as conventional multiple logistic and linear regression in the analysis of primary and existing secondary data from a variety of national and international sources in her research endeavors. Dr. Clarke is also an Adjunct Assistant Professor in the Department of Mental Health at the Johns Hopkins Bloomberg School of Public Health, where she mentors the graduate research projects for master's students who are interested in suicide and suicide prevention and health disparities and teaches a course on suicide as a public health problem.
Training Institute Policies: 
Refunds for JSSA's CE training program cancellations are provided up to 5 days before the training date. After that time, a credit can be issued if JSSA receives a registrant's cancellation up to two business days before the training date. This credit can be applied towards a future 3-Hour CE training, symposium, or post-graduate course up to one year from the issue date. 
Authorization: 
The Jewish Social Service Agency (JSSA) is authorized by the Maryland Board of Social Work Examiners to sponsor Category 1 continuing education programs. The D.C. and Virginia Boards of Social Work usually recognize the Maryland Board of Social Work Examiners' approval. Please contact your state board for verification. JSSA maintains responsibility for its program content. 
JSSA is an approved sponsor of CE credits for psychologists in Maryland under the Maryland Department of Health and Mental Hygiene. JSSA maintains responsibility for its program content. 
JSSA has been approved by NBCC as an Approved Continuing Education Provider, ACEP No. 6457. Programs that do not qualify for NBCC credit are clearly identified. JSSA is solely responsible for all aspects of the programs. 
In order to receive a certificate, registrants must attend the entire session.