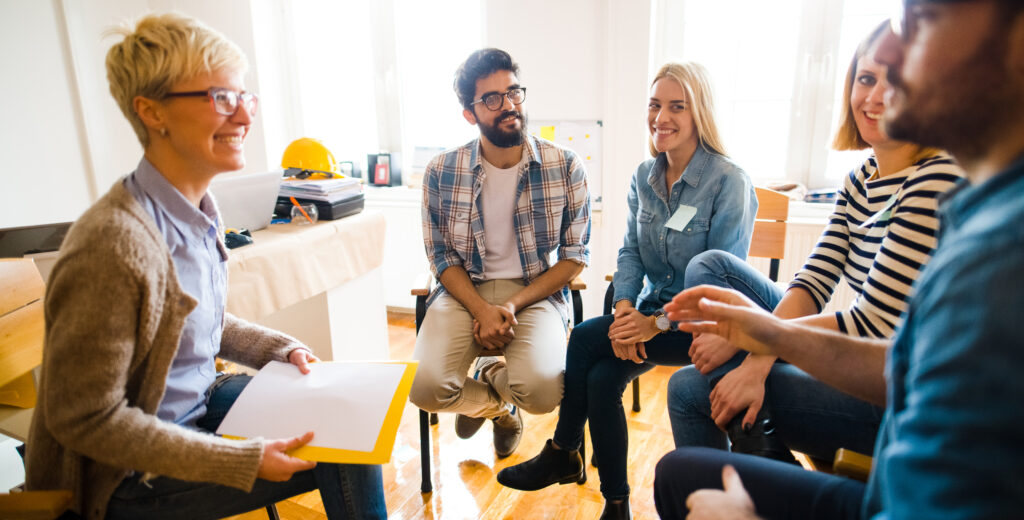 Our door is open.
Call now to learn how we can help.
Available in
Montgomery County, MD
Northern Virginia
Workshops and Groups
Our workshops and groups allow everyone from teens to seniors to connect with others in a supportive environment.
It can be hard to face life's challenges alone, and finding others who are going through similar experiences is not always easy. JSSA is here to help you connect to, grow with, and learn from your neighbors.
We offer workshops and group counseling for everyone, from teens struggling to cope at school to people experiencing grief and loss. Our licensed staff lead these sessions and allow you to engage in an honest, supportive environment.
LGBTQIA+ Teen Group – Virtual Workshop
A weekly workshop for LGBTQIA+ youth ages 13-18. This will be a space to develop resilience skills, practice confidence, and learn from others. 
Ages: 13-18 
Days: Six Tuesday meetings, October 18th– November 22nd  
Time: 6:00 PM – 7:00 PM 
*This workshop will require a minimum of 3 participants and a maximum of 8 participants. 
Cost: This workshop is being offered free of charge, and insurance will not be billed 
Facilitator: Serenea Vinci  
Serenea is a graduate student and intern at JSSA who enjoys working with youth and young adults. Her areas of interest include anxiety, life transitions, and identity. Her background experience includes youth suicide prevention research efforts and facilitating after-school programming for teens.  
If you are interested in participating, please contact Serenea at svinci@jssa.org

.

 
Online Skills Workshop for Parents
of Teenagers 14-18
Do you see your teenager struggling to manage intense emotions, impulsivity, academic distress, and/or social difficulties?
Do you feel uncertain about whether the behavior you are seeing is considered normal adolescent behavior?
Do you feel frustrated, ineffective, or like you're locked out of the relationship you want to have with your teenager?
Do you question your own parenting decisions?
Do you want to connect with other parents facing similar challenges?
If you answered YES to any or all of these, this group could be for you.
Parent participants in this workshop will learn to:
Better understand your teenager's emotions and behaviors;
Better communicate with your teenager; and
Learn skills informed by Dialectical Behavioral Therapy (DBT) and other
therapeutic interventions that can help you be the parent you want to be.
How it works:
10 online sessions on Thursdays from noon-1 p.m.
Dates: September 22-December 8 (no workshop on Nov 10 or Nov 24)
Workshop Fee: $200 for an individual parent/$300 for two parents
**The workshop will run once a minimum number of 6 people have registered.
Kathryn Zimmerman, LMSW, will lead this workshop. 
Therapy Group for Teen Girls 14-16 – Virtual
This group will help group members learn new coping skills, increase self-confidence, and enhance skills for making and keeping friends in a positive and supportive environment.
Do you have thoughts that sound like this? If so, this group could be for you.
I feel lonely and wish I had people my age I could talk to about my feelings.
I don't want to complain to my friends. I know they are struggling too.
I'm not sure I know how to make and keep friends.
I want to be able to cope better with the stress I feel.
It is sometimes hard for me to understand and manage my own emotions.
Sometimes I act impulsively and don't know why or how to stop it.
My peers seem happy about returning to school in person, but it's really hard for me.
How it works:
14 weekly group sessions will be held virtually for up to six members on Thursdays from 5:30-6:30 p.m, October 11 – January 17, 2023.
$75 per session – insurance reimbursable
This group will be co-led by Zach Lehman, L.C.S.W.-C., and Dara Sypes, Social Work Graduate Student Intern
**Please note: Running this group depends on sufficient enrollment and participation in an individual intake assessment for new group members. Registrants will be notified when we reach minimum capacity.
Bereavement Groups
Teen Grief Support Group – VIRTUAL GROUP
Have you recently experienced a death of a loved one? Are you struggling with a wave of feelings that are confusing? Do you feel alone? Do you feel different and that no one understands you? These are just some of the feelings one feels when they are grieving. Please know that these feelings are normal and that you are not alone.
This group will provide you with a safe place to talk about your feelings surrounding your loss. Topics will include the meaning of grief and the different ways people grieve. Resources will be provided.
Ages: 14-18
Date: Wednesdays
Time: 3-4 p.m.
*This group will require a minimum of 3 participants and a maximum of 8 participants.
Facilitator: Heidi Cohen LCSW-C
Heidi Cohen is a licensed clinical social worker who has been with JSSA for 15 years. Heidi specializes in the treatment of child sexual abuse and family violence as well as grief and bereavement, particularly due to suicide.
If you are interested in joining this group, please call Heidi Cohen at 301-610-8379.
Adult Children who have Lost a Parent Support Group
Seven-session evening group for adults who have lost a parent within the past year. Held several times a year.
Facilitator: to be announced.
For more information, please contact Deb Vaughn, Bereavement Counselor, 301-816-2658.
COVID Loss Support Group
Six session evening group for adults who have experienced loss of a loved one due to COVID-19. Dates to be determined.
Facilitator: Sinem Meneses, LCSW-C
For more information, please contact Sinem Meneses, LCSW-C at 301-816-2634
Loss of Spouse Support Group – ongoing
Meets virtually the second and fourth Friday of the month
TIME: 10:30 a.m. – 12:00 p.m.
Facilitator: Irene Mednick, LCSW-C.
For more information, please contact Deb Vaughn, Bereavement Counselor, 301-816-2658.
Loss of Young Child Support Group – ongoing
Meets virtually on Monday evenings, once a month
Facilitator: Suzanne Adelman, LCSW-C.
For more information, please contact Suzanne Adelman, LCSW-C at 301-816-2683
Suicide Loss Support Group
Meets virtually the first and third Mondays of each month
TIME: 7:30 p.m. – 9:00 p.m.
Facilitator: Ellen Lebedow, LCSW-C.
For more information, please contact Ellen Lebedow at elebedow@jssa.org or call Arlen Gaines, LCSW-C at 301-816-2705.
Seminars
Tapping into Creative Expression to Overcome the Adverse Effects of COVID-19 and Racial Injustice
This presentation demonstrates how music, drama, writing, and other expressive arts can assist with overcoming adversity, such as the current pandemic, and the struggle to end racial injustice and achieve social equality.
Here is a link to the presentation: Tapping Into Creative Expression Presentation