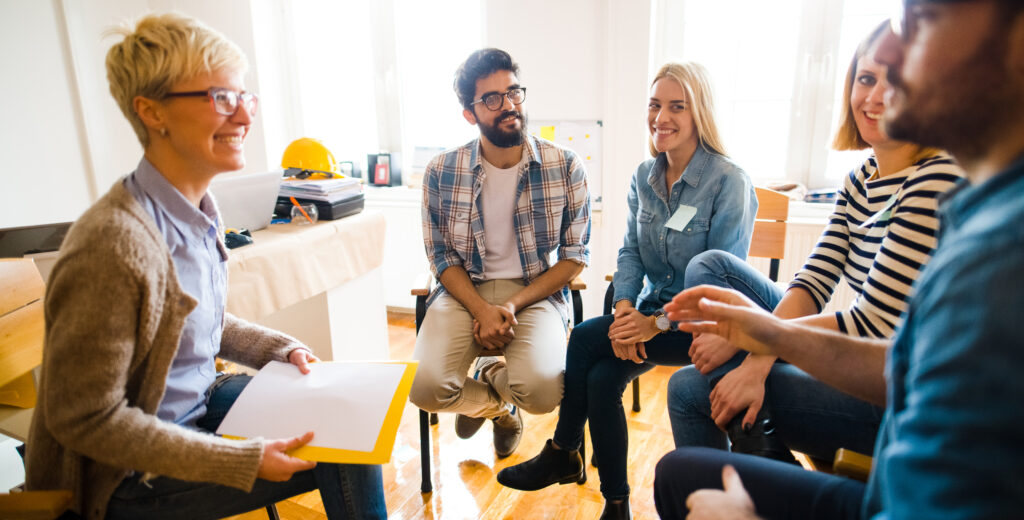 Our door is open.
Call now to learn how we can help.
Available in
Montgomery County, MD
Northern Virginia
Workshops and Groups
Our workshops and groups allow everyone from teens to seniors to connect with others in a supportive environment.
It can be hard to face life's challenges alone, and finding others who are going through similar experiences is not always easy. JSSA is here to help you connect to, grow with, and learn from your neighbors.
We offer workshops and group counseling for everyone, from teens struggling to cope at school to people experiencing grief and loss. Our licensed staff lead these sessions and allow you to engage in an honest, supportive environment.
Teen Therapy Group for 14-17-year-old adolescents – GROUP IS FILLED
This group will help group members learn new coping skills, increase self-confidence, and enhance skills for making and keeping friends in a positive and supportive environment.
Does your teen have thoughts that sound like this? If so, this group could be for them.
I feel lonely and wish I had more people my age I could talk to about what I'm feeling.
I don't want to complain to my friends. I know they are struggling too.
I'm not sure I know how to make and keep friends.
I want to cope better with all the stress I feel.
It's sometimes hard to understand and manage my own emotions.
I wish I had more confidence in myself.
I wish I had a place where I could talk honestly about what I'm going through with a group of supportive peers.
12 weekly group sessions 
Dates: February 16th – May 11th.
Time: Thursdays, 5:30 – 6:30 pm
Facilitators:
Zach Lehman is a licensed clinical social worker with 25 years of experience providing individual, group, and family therapy for children, adolescents, and adults. Zach has experience facilitating psychodynamic and social skill groups for children and adolescents in outpatient and residential settings.
Dara Sypes is a graduate student pursuing her Master's degree in Clinical Psychology, with an emphasis on Marriage and Family Therapy. She also has past experience developing and running therapeutic, recreational, and wellness groups for teens.
Online Skills Workshop for Parents
of Teenagers
Do you see your teenager struggling to manage intense emotions, impulsivity, academic distress, and/or social difficulties?
Do you feel uncertain about whether what you are seeing is normal adolescent behavior?
Do you feel frustrated, ineffective, or like you're locked out of the relationship you want to have with your teenager?
Do you question your own parenting decisions?
Do you want to connect with other parents facing similar challenges?
If you nodded YES to any or all of these, this group could be for you. Parent participants in this workshop will learn to:
Better understand your teenager's emotions and behaviors;
Better communicate with your teenager;
Gain support, validation, and ideas from other parents; and
Learn skills informed by Dialectical Behavioral Therapy (DBT) and other therapeutic interventions that can help you be the parent you want to be.
How it works:
10 online sessions on Thursdays from noon-1 p.m.
Dates: January 19-March 23
Workshop Fee: $200 for an individual parent/$300 for two parents
This workshop will be led by Kathryn Zimmerman, LMSW. Kathryn, a clinical social worker, got her start in community mental health, working with adolescents and young adults. Prior to joining JSSA as an outpatient therapist, she worked in an intensive outpatient Dialectical Behavioral Therapy (DBT) program where she provided individual and family therapy and led DBT skills training groups. Kathryn is particularly passionate about parent coaching and group therapy.
NEW – Friends 4 KEEPS
This group is a good fit for neurodivergent tweens who can verbally communicate with others and may be experiencing challenges due to a particular diagnosis. This may include but is not limited to: Autism Spectrum Disorder, ADHD, Depression, and Anxiety.
Date: February 2 – April 6
Time: Thursdays, 6:00 PM – 7:00 PM
Ages: Middle School age
Cost: FREE
Location: In person at JSSA Fairfax Office (3025 Hamaker Court, Suite 450, Fairfax, VA 22031)
This is a 10-week social skills program for motivated tweens eager to learn ways to develop and keep friendships through building social skills that show Kindness, Empathy, Engagement, Perceptiveness, and Self-Esteem (KEEPS).
Structure:
The weekly group sessions will highlight a different social skill related to the five core traits (KEEPS) that are emphasized in this program. Weekly activities to take home will be assigned each week to practice the skills learned in the session. Two virtual parent sessions will provide feedback on the progress and generalization of social skills learned in the program. These sessions will be held on weeks 4 and 8.
Enrollment: Ongoing enrollment until maximum enrollment is met. A minimum of 6 participants is needed. The program is being offered to Virginia and Maryland residents if they are willing to drive to the Fairfax office. This group will be in person and will not have a virtual capacity.
To register or learn more about the program, contact Sheena Reddick at sreddick@jssa.org or Jessica Eliason at jeliason@jssa.org.
Group Facilitators:
Sheena Reddick is a graduate student intern at JSSA. She is completing her master's degree in clinical psychology at Pepperdine University. She enjoys working with children and families and has experience in working with families and children on the autism spectrum through Applied Behavior Analysis (ABA) in a variety of settings. She has also worked as a student volunteer with both teens and adults in an inpatient setting.
Jessica Eliason is a graduate student intern at JSSA. She has extensive experience assisting parents and families with children who experience behavioral and intellectual challenges navigate the school system and facilitating peer support systems.
Bereavement Groups
Teens Who Have Lost Someone to Suicide –VIRTUAL GROUP
Do you know a teen that has lost someone they know to suicide?Has your teen recently experienced a death of a loved one? Are they struggling with a wave of feelings that are confusing? Does your teen feel different and that no one understands them? These are just some of the feelings teens feel when they are grieving. Please know that these feelings are normal and that you are not alone.
This group will provide teens with a safe place to talk about their feelings surrounding their loss. Topics will include the meaning of grief and the different ways people grieve. Resources will be provided.
Ages: 14-18
Date: Wednesdays
Time: 3-4 p.m.
*This group will require a minimum of 3 participants and a maximum of 8 participants.
Facilitator: Heidi Cohen LCSW-C
Heidi Cohen is a licensed clinical social worker who has been with JSSA for 15 years. Heidi specializes in treating child sexual abuse and family violence as well as grief and bereavement, particularly due to suicide.
If you are interested in joining this group, please call Heidi Cohen at 301-610-8379.
Adult Children Who Have Lost a Parent Support Group
Seven-session evening group for adults who have lost a parent within the past year. Held several times a year.
Facilitator: to be announced.
For more information, please contact Deb Vaughn, Bereavement Counselor, 301-816-2658.
COVID Loss Support Group
Six-session evening group for adults who have experienced the loss of a loved one due to COVID-19. Dates to be determined.
Facilitator: Sinem Meneses, LCSW-C
For more information, please contact Sinem Meneses, LCSW-C at 301-816-2634
Loss of Spouse Support Group – ongoing
Meets virtually the second and fourth Friday of the month
TIME: 10:30 a.m. – 12:00 p.m.
Facilitator: Irene Mednick, LCSW-C.
For more information, please contact Deb Vaughn, Bereavement Counselor, 301-816-2658.
Loss of Young Child Support Group – ongoing
Meets virtually on Monday evenings, once a month
Facilitator: Suzanne Adelman, LCSW-C.
For more information, please contact Suzanne Adelman, LCSW-C at 301-816-2683
Suicide Loss Support Group
Meets virtually the first and third Mondays of each month
TIME: 7:30 p.m. – 9:00 p.m.
Facilitator: Ellen Lebedow, LCSW-C.
For more information, please contact Ellen Lebedow at elebedow@jssa.org or call Arlen Gaines, LCSW-C, at 301-816-2705.
Seminars
Tapping into Creative Expression to Overcome the Adverse Effects of COVID-19 and Racial Injustice
This presentation demonstrates how music, drama, writing, and other expressive arts can assist with overcoming adversity, such as the current pandemic, and the struggle to end racial injustice and achieve social equality.
Here is a link to the presentation: Tapping Into Creative Expression Presentation