Pre-Holiday Advice on Discussing Tough Financial Times with Young Children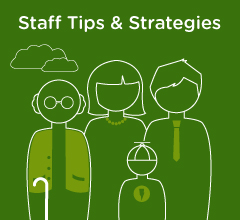 Authors:
Leslie Kessler, LCSW-C. LICSW, Clinical Social Worker and Deborah Goldstein, LCSW-C, Clinical Director
The effects of our nation's weak economy are especially being felt in many of our community's homes in the weeks before the December gift-giving holidays. Children are exposed to heavier-than-usual advertising and friends talking about what they are going to get for the holidays. They may feel an increased desire for material things, compare themselves to others, or question what it all means. The following tips may be helpful to caregivers and parents as they discuss and model with young children ways to find pleasure in the holiday time even while experiencing the effects of the economy.
See this challenge as a valuable opportunity to begin teaching children important lessons about dealing with life's struggles. When the world seems uncertain, children need their parents and caregivers even more.
As an adult, recognize your own anxiety about the financial situation first. To be helpful to others, adults must identify their own feelings, and differentiate them from children's feelings. Then they must set their own feelings aside to listen open-mindedly to the children's concerns.
Consider what a child is ready for developmentally. All children need reassurance and security, and adults must provide it in ways that young children can understand. Preschoolers don't need many details. Learning that there are many kinds of gifts and many ways to give can help children feel part of the festivities in age-appropriate, exciting and meaningful ways.
Focus on the traditions, old and new, surrounding blessings, foods, music, decorations and sharing it all with those we love.
Answer the child's question. Parents and caregivers should focus on answering only the child's specific question – don't elaborate. Again, think of the child's developmental level, and give information he or she can understand.
Give permission to enjoy the season. Even when the budget is tight, this time of year offers many treats for the senses; pretty things to see, special music, foods, and activities. Encourage children to celebrate Chanukah with enthusiasm and also to enjoy festivities with families and friends who celebrate Christmas or other holidays.
Discuss grownup concerns about financial security only with other adults. Young children don't understand the many ways decreased resources influence their lives. Let them know that no matter what difficulties they might be experiencing, their parents will be there for them. There is much fun and beauty in the holiday season. When we open ourselves up to it, our children can, too.
JSSA's broad range of programs and services help people of all faiths, races and ethnicities cope with many of life's challenges.