JSSA Hospice – Our Community's Jewish Hospice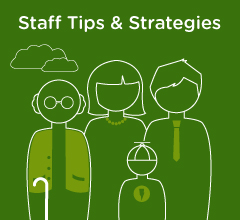 Author:
Joy Sexton, RN, BSN, JSSA Hospice Director
…my wife and I would like to thank you for making the deaths of my father and mother a loving, respectful, caring experience. After my father Sidney died…the hospice Rabbi was there for my mother, family and friends…and she continued to visit my mother and lend support. The last 2 days before my mother died were especially difficult. You were all there, listened to our needs and guided us through the most difficult time of our life. With our deepest gratitude and thanks…– Richard and Paula Kaplan
For more than 30 years, JSSA Hospice has been the first place the Jewish community turns to for exceptional end-of-life care that supports dignity, comfort and peace of mind for individuals and their families and honors Jewish cultural traditions and customs.
JSSA's commitment to our community is rooted in nearly 120 years of expertise, compassion and Jewish values. As a non-sectarian hospice we serve people of all faiths, but for the Jewish Community we are their community's hospice program. JSSA Hospice understands Jewish rituals around death and dying and addresses the physical, emotional and spiritual needs of patients and their families. JSSA's team of caring professionals provide:
A Jewish approach embracing r'fuat hanefesh and r'fuat haguf, holistic caring for the spirit and the body.
Skilled care to help your loved one remain comfortably at home – whether their own home, the home of a family member, a senior living residence or a nursing facility.
Specially trained physicians and nursing staff
A volunteer program that includes more than 100 specially trained volunteers (providing friendly visits, respite care, massage, music, aromatherapy, pet therapy and more…)
Frequent nurse and staff visits ensuring personalized and coordinated care
Emotional and spiritual guidance, including bereavement support, by experienced social workers and rabbis. In fact, JSSA hospice social workers follow families after the death of the patient.
Personal care assistance by skilled hospice aides
Bikkur cholim through volunteer visits, companionship and respite care
JSSA Hospice's relatively small size is one of the things that differentiate us from local competitors. Our smaller size facilitates accessibility to our intake department, supervisors, staff and volunteers. Family satisfaction surveys show that 100% of our families would definitely recommend our hospice program to others and rate the overall care provided by JSSA Hospice as very high to excellent.
In addition, JSSA's Transitions program sets us apart from other hospice providers. The Transition program provides alternative support to patients with life limiting illnesses, who do not yet qualify for the hospice benefit due to the pursuit of curative therapy or who are not yet ready to accept hospice. This is a free program and is supported by our trained volunteers.
Your expertise and guidance, your candor and compassion, your gentleness and consideration supported us during one of the worst times our lives. Please never doubt your value to those of us you sustain; never question the magnitude of the work you do every day. We never will!
– Holly Meyer