Grief and a Prolonged Illness – Challenges and Opportunities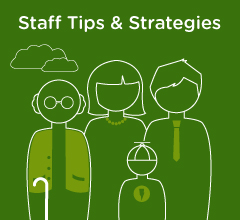 Author:
For many the holiday season is a joyous time of the year. We connect with people we care about and wish them good cheer. However, there are many among us who find this time of year more difficult than joyous. They might be in the midst of grieving the loss of a long-term relationship as they watch someone close to them decline and change due to the progression of an illness. Or they may find themselves grieving because a friend or family member's ability to use speech is no longer what it used to be or they see someone they love struggling with dementia and losing what was once a keen ability to reason.
Here are four helpful tips that can't take away the pain, but can bring a measure of comfort to those experiencing the grieving process:
Create a tribute. Raise money for research or set up a scholarship in the person or their loved one's name. And tell the declining individual what you have created. They may feel honored and experience a sense of purpose as you share your efforts.
Find support. Turn to others who are similarly affected by the person's change or decline. Share your thoughts and struggles. Passing milestones together can be especially helpful.
Take care of yourself. Make sure you prioritize your needs. Find activities that bring you the comfort as you move forward. Continue to participate in your daily activities so you don't become overwhelmed and feel alone in your grief.
Turn grief into action. Not sure how to help? Find a purposeful way to feel useful by brainstorming with others close to the individual who may also be struggling and grieving.
The grieving process is inevitable, regardless of when it starts. Allow yourself to move through your grief in your own way and in your own time. And remember – there is no right or wrong way when it comes to grieving.