65, Single and Looking: A Practical Guide to Dating After 50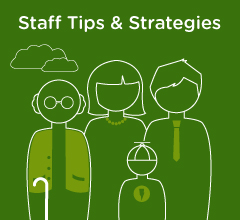 Author:
JSSA Senior Services Department
Paired-off couples aren't hard to spot – you see them in airports, restaurants, museums, shops. If you are single and over 50, maybe also widowed or divorced, becoming part of a couple again may be on your mind. Although dating at this point in life may raise a few uncertainties, it holds great potential for fun and excitement.
Seniors who are starting to date should arm themselves with revised expectations, an open mind, and a willingness to encounter a few rejections, then to go out and enjoy themselves. The following tips may help both men and women who are seeking friendship, companionship, love, and intimacy:
Change your expectations without lowering them. At 50 or older, you're not going to raise children with someone your age, so the personal qualities you look for in a partner may need to shift. Also be ready for a range of relationship goals people bring to dating now. Some may seek marriage, others a monogamous relationship without marriage, and yet others may simply want a companion.
If you were married before, acknowledge what being single again means to you. Losing a spouse to divorce or death can cause pain you may never completely put behind you. However, when you realize that you are missing intimacy and connection with the opposite sex and want to rekindle it, you are ready to date.
Start making connections through friends and family. Word-of-mouth is the easiest and safest way to find a match, so tell your friends and relatives you are looking. And if someone invites you out – accept! You'll get reacquainted with how to date, and you never know…you could meet someone terrific.
Always be yourself on a first date. If you wear sweats all the time, go in sweats. Women who don't usually wear make-up shouldn't start wearing it now. You want the first date to lead to a second, so let the new person know what you are really like.
With someone new, give only the "executive summary" of your life. Keep personal information brief and positive. For instance, you could say, "I have two wonderful kids," without giving details of their lives. Other good topics of conversation are movies, books or interesting places you have visited or would like to see. Steer away from discussing medications, ailments or your past relationships.
Plan easy first and second dates. On you first time out, try meeting in a public place for a short date such as an afternoon cup of coffee. For a second date, especially if you're not quite sure it's a good match, suggest going to a movie or participating in an event together followed by coffee or dessert. However, if things go well on a first or second date, lunch or dinner together may give you more opportunities to get better acquainted.
At the end of a date, be clear about your interest in continuing. If you think you want to see the person again, say something like "It was lovely meeting you, please feel free to give me a call." If not, say," It was lovely meeting you, and I wish you all the best." It is fine to politely say that "you're very nice, but you're not the one for me." Dating inevitably involves some rejections.
As a relationship develops, consider factors that impact intimacy and sex. Age, health and mindset can set limits on the wants and needs for intimacy and sex for each member of the couple. Once a friendship has bloomed, talk to your partner about his or her expectations as one mature adult to another. Or consider talking confidentially to a counselor or therapist before addressing sex and intimacy with your new companion.
Remember you have much to offer in a relationship. Romantic ideals that many men and women hold deep down can undercut enjoyment and success in dating. Let go of fantasies of being swept off your feet by a handsome prince or beautiful princess. New prospects you meet may look older to you than a partner who was aging alongside you gradually. Remember, you and other singles over 50 have the advantage of bringing greater perspective, life experience, and self-awareness to a new relationship.