Transitioning to College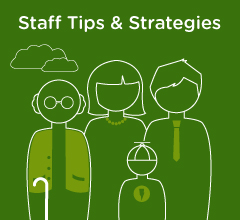 As parents start thinking about "next steps" regarding transitioning their special needs child from high school to college, there are some key questions and tips that can be very helpful.
The first question to ask yourself – and your child is – "what is the goal?"  Does your child want to go to college or would he/she prefer to enter into a job training program and explore career opportunities? Having ongoing "next steps" conversations with your son or daughter and identifying what he or she really wants to achieve is the best place to start.  The earlier you start this conversation the better.  It is important though to make sure that whatever the identified goal is – that it is a realistic one.
Once you've determined that college is the goal, the next step is to work with the high school transition coordinator and others who are on your "team" both at school and in the community to help you and your child work towards achieving that goal.
What should you keep in mind as you explore college options?
What are the requirements to get into the school(s) that you've identified as your child's top choices? Your child must meet the requirements the school sets forth in order to gain admission – regardless of his/her disability.
Remember–self-advocacy is the key! Colleges are not required to identify students with disabilities or to provide special education services. All they must guarantee is equal access.
In order to receive disability support services in college, you need documentation of the disability. It cannot just be a note from the doctor saying your child has a learning disability, ADHD or ASD.  There has to be a full documentation of the disability.  Having an IEP or 504 plan is not enough.  Schools also require testing that is no more than 3 years old from the date of application.
Your son or daughter will need to inform the college of their disability and if they want and need extra help or assistance. To receive these services they will need to register with the office tasked with providing support services to students with special needs. It is important that your child also schedule time to talk with professors, teaching assistants, etc. about their particular needs and accommodations.
The acceptance letter has arrived! Here are a few things your child will need to consider:
Living arrangements. Will you live off or on campus? Will you have a roommate or roommates? Can you handle living with a roommate?
Meal plans. Do you need to sign up for a meal plan and does this mean you have to eat in the dining hall?  If so, do you have any food restrictions or sensory issues that need to be addressed?
Time management and organization. How do you handle these issues? The office of disability services can help you manage school work, but they can't help with getting up, dressed, fed, and to class on time!
Socialization. What does the college offer regarding social opportunities and how can you participate?
Support services. What kind of support services are available both on and off campus and how can you find out more?
How can parents help?
Build self-advocacy skills by making sure your child understands his or her disability.
Research schools and the services offered both on and off campus.
Teach life skills—whether your child decides to attend college or not. Skills that include:

Laundry
Budgeting and money management
Time management
Cooking
Organization
Parents – it is important to remember and recognize that throughout this process the key is to support your child. Balancing everything can be difficult and the process can sometimes be emotional. Remember to support your child without taking over.  An important part of the college transition is growing and learning – together!
We invite you to review this list of helpful publications.