JSSA is here for every one of our neighbors!

We know that many of our neighbors are experiencing profound anxiety, concern, sorrow, and feelings of vulnerability that are impacting our well-being. JSSA is here to serve all people with empathy, compassion, and caring.

We recognize our critical role in supporting our neighbors' emotional health and coping ability across the National Capital Region. JSSA has mobilized our team and offers several community support programs to help our neighbors through this challenging time with warmth and acceptance.

Below, you will find JSSA programs and other resources to help our community get through these challenging times together. This webpage will be updated with additional offerings and resources as they become available.
JSSA Community Listening Circles
We are proud to create a brave space for all members of the community to come together and respectfully discuss our current feelings of sorrow, anxiety, fear, and vulnerability and how we can support one another through this challenging time. JSSA's expert mental health crisis facilitators will lead the discussion. Groups are most impactful when there is a minimum of 8 people in the community listening circles.
Upcoming Dates:
TBD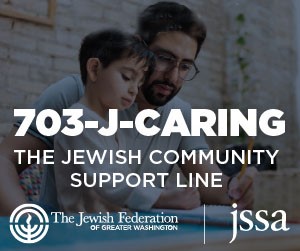 J-CARING Community Support Line
If you need access to emotional or mental health resources, Federation, JSSA, and our network of human service organizations are here for you. Call (703)-J-CARING (703-522-7464), and a J-Caring provider will connect you to community resources to address your needs. Serving DC, MD, and Northern Virginia residents, support is available Monday – Friday, from 9:00 AM – 5:00 PM ET. All calls are confidential.
Separating Helpful Information from Misinformation:
Self-Care and Compassion for Professionals: