Special Needs Children and Divorce: Working with a JSSA Child Specialist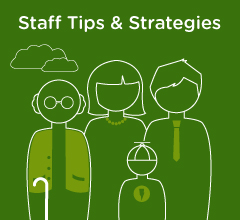 Author:
Jamell White, Ph.D., LCSW-C, Director, Special Needs and Deaf/Hard of Hearing Services and Lori Gunner Kolle, LCSW-C, Clinical Director
Enlisting the help of a JSSA Child Specialist during the divorce process is particularly important if parents have different perceptions about how their child is doing and feeling and what specific needs their child might have. For families with a special needs child there are many additional issues, questions, and potential future challenges that have to be considered. JSSA's Child Specialist team is uniquely qualified to work with parents and children as they are experts in the divorce process as well as highly experienced in addressing the many specific challenges of children with special needs.
The Child Specialist provides a safe place for children to share their feelings and concerns and ask questions about the divorce process. A child specialist plays an important, time-limited role in helping parents understand what their children are experiencing and what their needs are during the divorce process and in the future. The child specialist serves as a resource to parents and provides feedback to the collaborative team as they develop a parenting plan that strives to ensure the best interest of the children.
The Child Specialist can "hear the voice" of the child with special needs through interviews/discussions with other people in the child's life (care providers, therapists, teachers, doctors, and family members). The Child Specialist meets with the children in a variety of settings and gets to know the children and learn what their questions, fears, concerns and struggles are as it pertains to their parent's divorce. The Child Specialist does not ask the children where they want to live and is careful not to put the children in the middle of the parent's issues.
By avoiding creating more stress for the children, the Child Specialist earns the trust of the children allowing them to be open and honest. This, in turn, helps the entire team process. The Child Specialist also helps by answering the parent's and children's questions about divorce and about immediate decisions that might need to be made. For example, many parents are unsure how to talk to the children about divorce – especially those with special needs. The Child Specialist can help answer this type of question and help parents know what to expect from the children based on how old they are and what their stage of development is.
JSSA Child Specialists can also direct parents to many internal and community resources that can prove helpful such as:
Referrals to Therapy services (individual, couples and family) to provide an outlet to express feelings related and unrelated to family issues.
Parent Trainings and Workshops
Workshops and Support Groups for Siblings of children with disabilities. Children with disabilities often require a great deal of time and attention from parents and other caregivers. Time for the other children in the household may be limited, and these children tend to benefit from opportunities to share their feelings on the issue either through individual counseling or in group settings with other children who have siblings with disabilities.
Divorce Group for Children of Divorced Parents to educate them about how divorce may impact their life as well providing a place to process feelings with other children in similar circumstances.