Proceed with Care: The Art of Discussing Risky Behaviors with Teens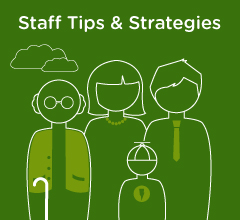 Author:
As our children become teenagers, they often hear about, talk about and have access to more risky behaviors. Among parents, anxiety about these possibilities also grows. Conveying expectations and concerns to teenage children can feel like a minefield.
Adolescents naturally strive to protect their freedom, and it is normal for them to think about taking some risks at this age. At the same time, parents try to shield their children from social pressure, temptation, and the sometimes long-term consequences of impulsive decisions. Skepticism on both sides is strong.
However, with adulthood approaching, teens need their parents to provide guidance and support. A key developmental milestone in adolescence is learning to think independently and make good choices, but teenagers cannot do it all alone. Your child needs you to set limits and clarify values, as you always have.
Try to approach discussions of risky behaviors as two-way communication with your teen. When discussing matters such as drinking at parties or attending coed sleepovers, for instance, state your views and your reasons for them. Then listen carefully to your child's views. This may be hard to do, but it builds credibility with a teen.
When you respond to your child, do your best to respectfully challenge the teen to defend his or her views. The child will see that you care about his or her opinions and are there for support when he or she is grappling with mature matters.
Here are more tips for taking on the sometimes daunting role of communicating with adolescents about taking risks.
Give reasons your children should follow your advice. Adolescents want to know why parents' values are so important. Be convincing when they question your views. For instance, when discussing sexual relationships, you could ask, "If you think it's OK to have sex in high school, are you prepared for the possibility of a pregnancy? And what would you do to prevent sexually transmitted diseases?"
Avoid power struggles. Instead of getting locked into verbal battles that can never be won, allow respectful disagreement with your children. It is OK to say, "I see your point, but I disagree." Ask open-ended questions that make teens think about their choices. For example, "What would you do if you were at a big party and the police came and found you with a beer in your hand?"
Keep discussions short. Really engaging an adolescent in a discussion about risky behaviors is hard work! The longer and more involved the discussion, the more likely the child will tune out. Take advantage of brief and more relaxed windows of opportunity to talk, such as while driving, washing dishes or walking the dog.
Problem-solve together. Point out options and choices, and help teens see natural consequences of their actions. Evaluate with them what actions are and are not acceptable. For example, you might say, "Let's think of a way you can let me know if you need to get out of an uncomfortable situation with other kids."
Being a parent means teaching your children how to be responsible for themselves. Just as children have needed guidance on matters such as developing good manners and juggling school and activities, they need parental listening, guidance and support as they develop their own value systems. Educating them and focusing on solutions bolsters the parent-teen relationship while preparing them for adulthood.
JSSA helps children, adolescents, parents and whole families face a wide a variety of challenges and transitions inherent in growing up.