JSSA Hospice Social Worker Wins Children's Book Award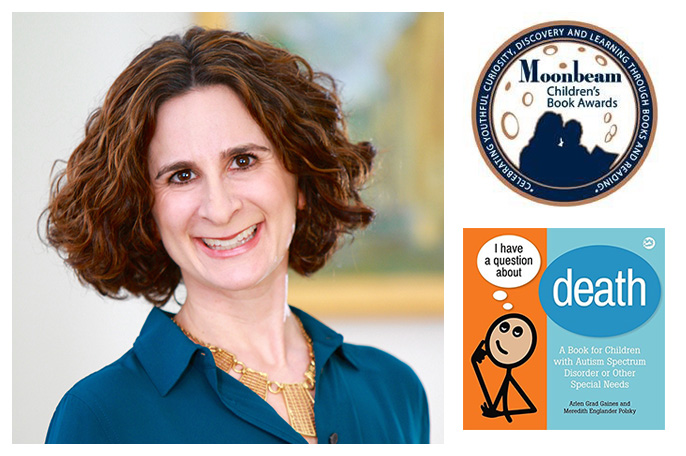 I Have a Question about Death: A Book for Children with Autism Spectrum Disorder or Other Special Needs, co-authored by JSSA Hospice social worker Arlen Gaines, LCSW-C, has been awarded a bronze medal by the Moonbeam Children's Book Awards. A clear and concise resource, I Have a Question about Death uses straightforward text and images to help children understand what it means when someone dies, what they might expect after the death, and how they might think about and remember the person. Below, Arlen discusses her inspiration for writing this book and what winning a Moonbeam Award means to her.
1. What inspired you to write this book?
It's been such a privilege to care for many patients and families over the years in my work as a hospice social worker at JSSA. Throughout that time, I noticed that many of the adult children of our patients had a child or grandchild with Autism Spectrum Disorder or other special needs and had been searching for appropriate resources. Many of the existing children's books on death and dying use animals as the main characters instead of people, or contain metaphors that are out of reach for many children with special needs, who often process information in a concrete manner.
On a personal level, I was searching for good books for my own children after the death of a family member and couldn't find anything that approached the subject in a direct manner that I felt would work for them. After several years of research, I discovered a true gap in inclusive children's literature on this subject. I was lucky enough to partner with special educator and social worker Meredith Polsky, the founder of Matan (which improves Jewish education around special needs), and together we published I Have a Question about Death last March.
2. How long did the entire process take?
This process of publishing I Have a Question about Death has truly been a labor of love. It took several years to complete a thorough literature review and to learn about book publishing, but once Meredith was on board, we were full steam ahead. We're most grateful to Jessica Kingsley Publishers for accepting our proposal and for guiding us through the process. The book was published this past spring about a year after the proposal was submitted. We're excited to be continuing the series and look forward to publishing I Have a Question about Divorce early next year.
3. What does winning a Moonbeam Award mean to you and Meredith?
We feel incredibly honored to be recognized in this way. More than anything, we hope that it increases the book's visibility and helps get it into the hands of families in their greatest time of need.
Arlen Gaines is a social worker for JSSA Hospice. JSSA's hospice care services are available in Montgomery County, Maryland.