Brenner Escorted Transportation
Door-Through-Door Transportation Service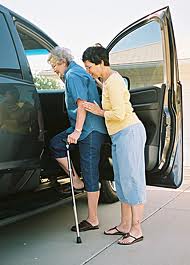 Brenner Escorted Transportation provides safe and reliable rides to medical appointments for seniors and other individuals who need assistance when leaving and returning to their homes. This JSSA service is particularly valuable to the adult children of seniors, many of whom are raising their own young children or working outside of the home and have limited availability to makes these drives themselves.
Transportation is available Monday through Friday, from 8:00 AM to 3:00 PM
Rides are scheduled in advance by the passenger or their family members
Passengers pay an hourly fee billed to them each month
Passengers may request specific drivers
Drivers* hired by JSSA's Brenner Escorted Transportation program are typically retired men and women. Patient and friendly, they enjoy driving and consider their jobs a way to give back to the community. All drivers are prepared to manage walkers, wheelchairs, or other assistive equipment and to offer door-through-door service to passengers:
Escorting passengers out of their homes and into car
Driving passengers to medical appointments and accompanying them into office
Assisting with various waiting room needs, such as checking in at the reception desk, filling out forms, or hanging up outerwear
Waiting during appointments and then helping passengers back into car
Stopping at a pharmacy, if needed, to fill prescriptions
Driving passengers home and assist them into their home
Please note: Brenner Escorted Transportation is available to all. You do not need to be a JSSA client to schedule rides.
Register for JSSA's door-through-door transportation services by completing these two forms:
*

JSSA screens each driver's criminal background and driving record and provides ongoing driving training workshops. We provide Brenner with a fleet of five donated cars and two wheelchair-accessible vans and cover the cost of the drivers, parking, gas, and insurance.