College Bound Seniors – Leaving Home and Summer Stress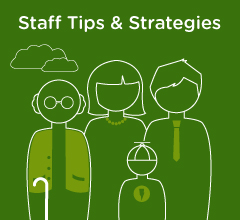 Author:
Deborah Goldstein, LCSW-C, Clinical Director
This year's graduating high school seniors have received their college acceptance letters. They've conquered college essays and financial aid applications. Prom and graduation are a fond memory and soon they will become college freshmen. Ah, the freedom of all that independence. Right?
Right, but not without the concerns and doubts that naturally accompany what for most college-bound students is the biggest life transition yet– leaving home.
The experience can bring stress through the spring and summer even though students genuinely do want to go away to school. Incoming freshmen anticipate many new experiences while they are for the first time physically and emotionally separated from their parents. Though friends may seem of most interest to this age group, parents remain the most important influence on the child. Making decisions about spending money, managing time and handling other necessities of life after living 18 years of highly structured lives at home can often intimidate these young adults.
And for some families, financial considerations may also cause anxiety or insecurity for students while others may feel more pressure to succeed academically to justify the high cost of their education.
Parents need to be on the lookout for the signs that a child may feel stress about departing for college:
Irrational or out-of-character behavior that may reflect a teen's anxieties such as temporary crying jags or belligerence
Physical symptoms of stress such as headaches or stomach aches
Intense summer romances which transfer love and loyalty to a new relationship and away from the family. These relationships distract students from having to leave home in the fall.
Children who pay less attention to friends and start clinging more to their parents
Some students may be comfortable talking over concerns about the impending transition with parents. However, speaking to a mental health professional instead may give others a welcome feeling of independence.
Once the fall semester begins, parents should let their children function as independently as possible. Parents might want to research the college's academic support center, its health center, and guidance and counseling services. Then if necessary, parents can help students set these supports in place later.
For parents harboring anxieties of their own about sending children away to school, you can certainly tell them you are going to miss them, and give them a big hug. But you don't want your child to feel guilty about leaving. As the adult, you should take care of your feelings privately with other adults you trust.