A Candid Look at the Role of Family Caregivers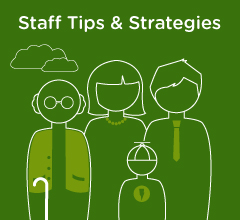 Author:
JSSA Senior Services Department
Former First Lady Rosalynn Carter once said, "There are four kinds of people in this world: those who have been caregivers, those who currently are caregivers, those who will be caregivers, and those who will need caregivers."
Carter, an advocate for family caregiving and an experienced caregiver herself, recognizes how common it is for family and friends to become the critically needed aides for their often elderly loved ones who find themselves no longer able to manage their own health and daily needs.
Jewish values emphasize honoring fathers and mothers, and Jewish families often consider their caregiving roles part of that responsibility. Sometimes, a crisis such as a loved one's stroke or fall thrusts a family member suddenly into this unfamiliar role. In many other cases, however, caregiving may begin with just one task — perhaps accompanying a parent to the doctor or a weekly grocery run – but over time other key roles are added such as cooking, daily errands, and laundry. When caregiving tasks grow slowly, caregivers may not recognize right away that their commitments are taking increasing amounts of their time and energy.
In either situation, caregivers may at some point become overwhelmed by the demands of caring for their loved ones. The role can be physically and emotionally exhausting, particularly while caregivers must also continue to take care of important matters in their own lives. Statistics show that in the United States, caregivers are most often between the ages of 35 and 65, and many also have paid jobs. In fact, the typical family caregiver is a 46-year-old woman, married or living with a partner, often working part-time or full time and spending at least 20 hours a week caregiving for a family member or friend. Another common scenario of a caregiver is an elderly man or woman tending to the needs of a frail spouse.
The following tips and resources may help caregivers better cope with the many responsibilities they often have to assume:
Look for the strengths in your loved one. Take pride and satisfaction in giving back to that person after the years of devotion you have received.
Accept help from others. It can be difficult to acknowledge that one caregiver may lack the time and energy to meet all the needs of one senior. However, tasks can be divided in various ways among family and other helpers, from part-time homecare aides to transportation services to volunteer visitors such as those arranged by JSSA.
Reward yourself with frequent breaks. Do things that help you feel refreshed, whether soaking in hot bath, exercising regularly, going out to lunch or a movie, relaxing with a book or visiting with friends.
Stand up for your rights as a caregiver and a citizen. Be sure that you and your loved one receive all that you are entitled to, whether in the community or in an assisted living facility. Ensure that you are receiving the maximum in health care benefits. You may even consider advocating for the needs of the frail and elderly with local, state and federal government representatives. Your letters, calls and emails based on first-hand experience can make a difference with policymakers.
Monitor yourself for depression. Depression and burn-out can often result when too many responsibilities over the long term overwhelm caregivers. Be aware of changes in your energy level, mood, motivation and your eating and sleeping patterns. These changes may signal depression and should be discussed with your doctor. JSSA has professionals who are trained in working with adult children or elderly caregivers to treat depression.