Summer Camp Time Already? Tips for Selecting A Camp For Your Special Needs Child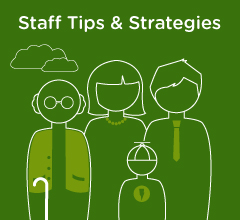 Author:
Jamell White, Ph.D., LCSW-C, Director, Special Needs and Deaf Services
Before you know it it's it's time to start thinking about summer camp! Selecting the right summer programs that are convenient, affordable and amenable to working with your child's needs may take some research.
Programs can be found within the Jewish community through JSSA, the JCC and Capital Camps. You may be surprised at how many options you can find when you search for programs at camp fairs, county recreation departments, community centers, private schools, and the many private providers of activities in the arts, sports, outdoors, travel, science, technology and more.
Whatever kind of program you seek, be sure to research widely, following up on ideas from friends, neighbors, teachers or therapists. Supplement information in brochures and on websites with direct inquiries by phone or email so you can introduce your child's specific needs to the program's organizers and discuss important concerns.
These questions can help you decide whether a program is a good match for your child:
Philosophy and Staffing
What is the camp's philosophy on serving children with different abilities? Do they modify activities so all children can participate?
How much supervision is offered? What background or experience does the staff have in working with a child like yours? Does the camp provide its own special needs training?
Is the camp willing to work with you to learn how to give your child the necessary support?
Is the camp open to you hiring an aide to help your child if the camp is unable to provide one?
Can parents communicate with the staff to get updates on the child's experiences?
Is there a nurse on staff for children taking medications or who have medical issues?
Facilities
What facilities does the camp have? Are they accessible to children with physical disabilities?
Is there a place to cool off if the weather gets too hot?
Activities
How long do individual activities last and how many transitions do the children make during the day?
How many community outings or out-of-camp field trips are offered? How long do they last? If these outings aren't appropriate for your child, what other activities can they participate in?
Do children make their own choices of activities, or do they move with a group from one assigned activity to another?
How much time is spent outdoors and indoors?
With plenty of research and an understanding of what each program offers, you will likely feel more comfortable choosing summer activities for your child that are fun while also building confidence, self-esteem, and social skills so important to children with special needs.