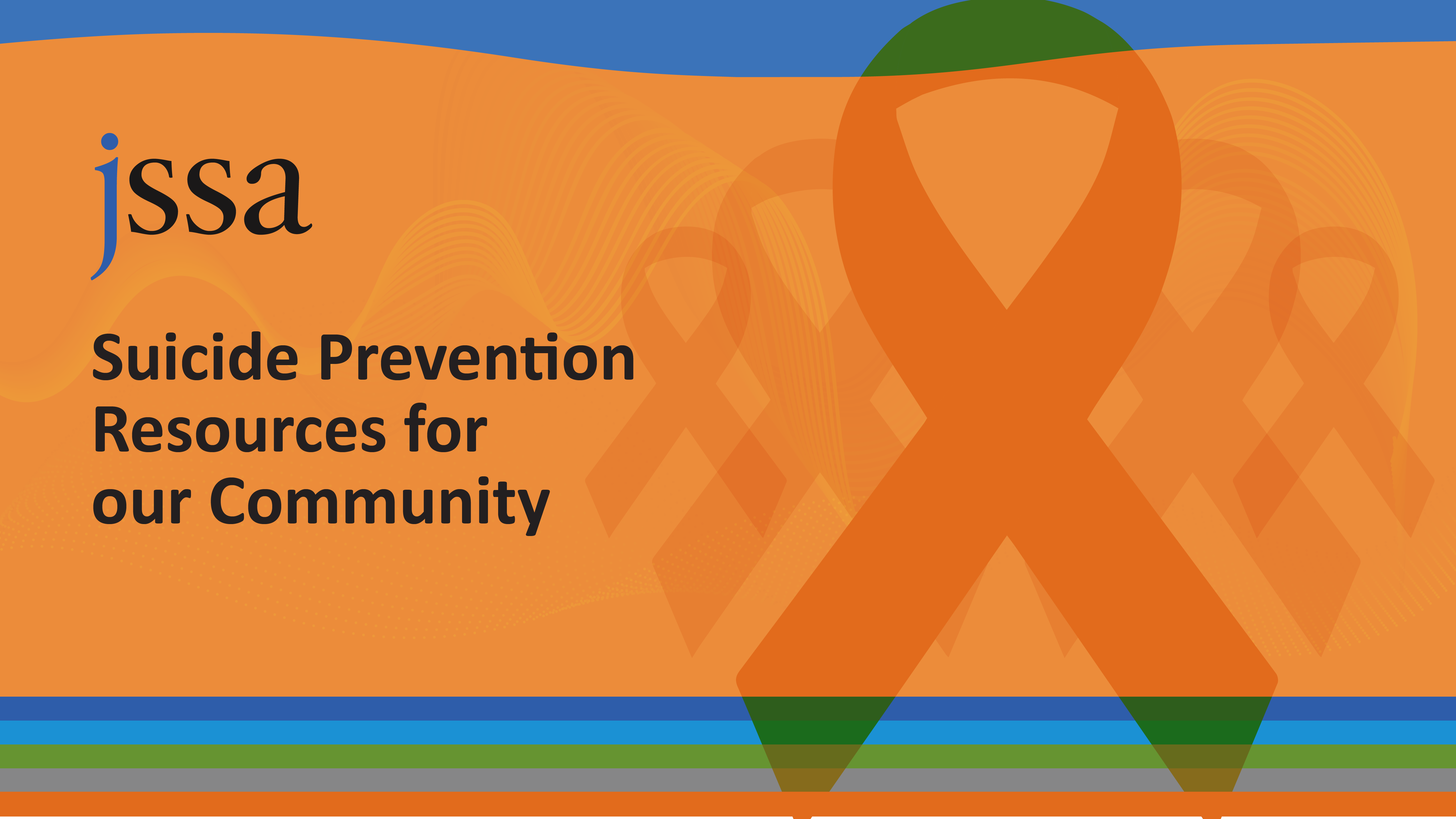 Suicide Prevention Resources
September is recognized as National Suicide Prevention Month. During this month individuals and mental health organizations across the U.S. and around the world raise awareness of suicide prevention.
In honor of this month, JSSA is adding our voice to remind our neighbors that suicide can be prevented. Suicide prevention work has never been more critical than it is right now, as many continue to fight their own personal battles in the midst of this unprecedented pandemic.
If you or a loved one is struggling with mental health issues or has been impacted by suicide, JSSA is here for you and can provide support. JSSA is proud to offer a comprehensive program for specialized bereavement support for survivors of suicide loss, encompassing expert clinical training, counseling services, information and referral services, and community educational programs.
For more information about our suicide response efforts, please call Heidi Cohen, LCSW-C at 301-610-8379.
---
According to a recent report by the CDC, U.S. adults reported considerably elevated adverse mental health conditions associated with COVID-19. "Younger adults, racial/ethnic minorities, essential workers, and unpaid adult caregivers reported having experienced disproportionately worse mental health outcomes, increased substance use, and elevated suicidal ideation," the report states.
While experts are concerned about the immediate impact the COVID-19 pandemic is having on suicide rates, they are becoming increasingly worried about an increased suicide rate over the next few years, according to a recently published article in the Journal of the American Medical Association titled, "Suicide Mortality and Coronavirus Disease 2019: A Perfect Storm?." Unprecedented public health actions needed to contain the new pandemic, along with social distancing requirements, stay-at-home orders, and stress due to job loss, may well result in far more suicides in the years to come.
---
Warning Signs to Look For
What can you do to help? Check on family members, friends, and neighbors to make sure they aren't struggling in silence. Pain isn't always obvious, but most suicidal people show some signs that they are thinking about suicide. If you observe one or more of these warning signs, especially if the behavior is new, has increased, or seems related to a painful event, loss, or change, step in or speak up. Here are some suicide warning signs:
Threats or wishes to harm themselves
Increase in drug or alcohol abuse
Feelings of purposelessness (e.g., expressing that they have no reason to live, or expressing that they feel like a burden on others)
Increase in agitation and restlessness
Increase in sleep issues
Feeling trapped, like there is no way out
Withdrawal from friends and family
Feelings of hopelessness (e.g., they feel there is no hope for the future or things will never change)
Decrease in interest for things that used to be pleasurable
Decrease in caring for self-hygiene
Increase in anger and irritability
Recklessness (increase in impulsivity)
Dramatic mood changes
Put affairs in order (e.g., they give away their personal possessions)
(Download a printable hand-out of JSSA's Suicide Prevention Flyer by clicking here.)
---
Suicide Prevention Hotlines
You are not alone, and help is a phone call or chat away. The following hotlines are available 24/7 to provide support, guidance, and assistance during a crisis:
National Suicide Prevention Lifeline: 1-800-273-8255
Maryland State Crisis Helpline: Call 211 and press 1
EveryMind (Montgomery County Hotline): 301-738-2255
Crisis Text Line: Text HELLO to 741741
D.C. Access Helpline: 1-888-793-4357
TrevorLifeline (for LGBTQ+ individuals under 25): 1-866-488-7386
CrisisLink Hotline (Northern Virginia): 703-527-4077
Montgomery County Crisis Center: 240-777-4000
---
Support and Informational Resources 
The following organizations offer additional information about suicide prevention and ways to get support:
---
It's OK to not be OK. JSSA is here for you. To get a one-time, 30-minute consultation with one of JSSA's mental health professionals, click here.