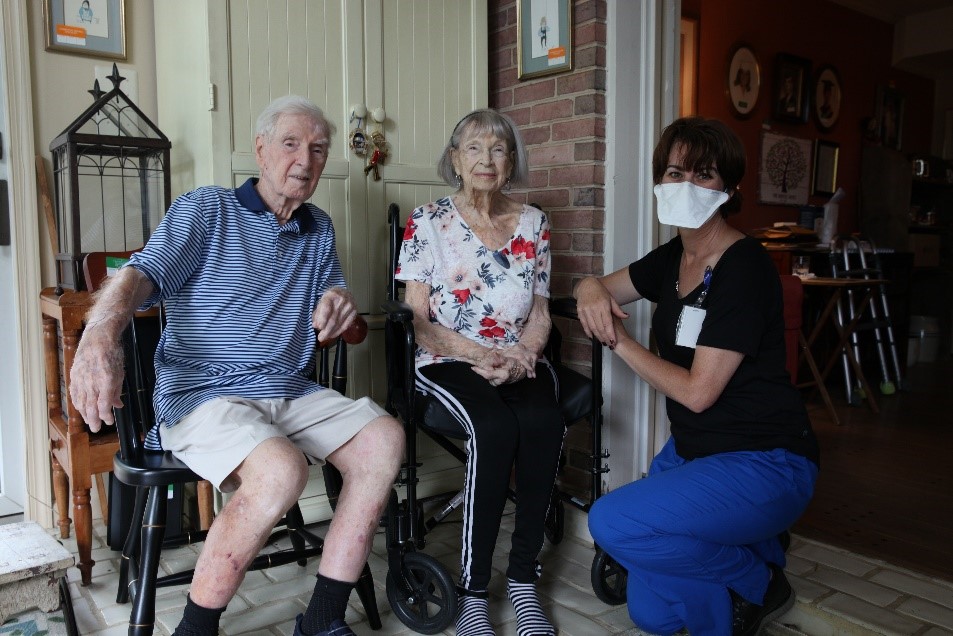 National Hospice & Palliative Care Month – JSSA Hospice Success Story
November is National Hospice and Palliative Care Month. It's an opportunity to talk about caring and compassionate options for individuals coping with life-limiting illnesses and their families. Each year, according to the National Hospice and Palliative Care Organization, about 1.5 million people living with a life-limiting illness receive care from hospice and palliative care providers in the U.S. These highly trained professionals ensure that patients and families find dignity, respect, and love during one of life's most consequential moments.
Navigating end-of-life care is difficult – the combination of emotional and practical challenges can feel overwhelming, especially in the time of COVID-19. In addition to the already daunting responsibility of managing their loved one's care, families must take careful precautions to keep themselves safe.
Despite these necessary precautions, our interdisciplinary Hospice team has continued to offer families and their loved ones the high-quality care Hospice has always been known for. From symptom and pain management to emotional and spiritual guidance, our compassionate Hospice team works attentively every step of the way in supporting you and your loved one's unique situation, especially during these times of change when you may need us most.
Since the beginning of the pandemic, JSSA Hospice staff have continued to care for clients in private homes, retirement communities, nursing homes, assisted living, and independent living facilities.
"In many ways our work is the same as before COVID," said JSSA Hospice Nurse Carmel Mary Brown. "There's just an added layer – literally an added layer of PPE," Carmel added, referring to the personal protection equipment JSSA provides to every staff member who interacts with clients in person.
One of those clients Carmel has been working close with throughout the pandemic is 96-year-old Mary, who recently celebrated her 75th anniversary with her husband Jim. With life turned upside down, Mary and Jim – who goes by "Captain" from his days in the Coast Guard – has relied on JSSA Hospice's safety protocols and its collaborative approach during these unprecedented times.
"We think the world of this group," Mary said, describing JSSA's interdisciplinary team of registered nurses, hospice doctors, social workers, chaplains, hospice aides, and volunteers.
"A lot of organizations are focused on making money," Captain chimed in. "JSSA isn't like that. This is an organization that cares about the individual." He said in Mary's case, it's not just that they make sure she is comfortable and has everything she needs.
"It's that they treat every person with respect," Captain expressed. "Carmel explains things in a way we can understand and is a trusted source of information. There's a lot of confusing and conflicting news about the pandemic. Given our ages, we are especially vulnerable and count on JSSA staff to provide us with accurate information."
Captain also appreciates the fact that JSSA cares for individuals at every stage of life – not just at the end – and that the organization "helps people regardless of their status," he added.
JSSA is proud to celebrate National Hospice and Palliative Care Month. To learn more about JSSA Hospice and the services we offer, visit JSSA Hospice.