JSSA's Annual Mental Health Symposium: The Legacy of Albert Ellis and the Origin of Cognitive Therapies
June 13, 2019 @ 8:30 am

-

4:30 pm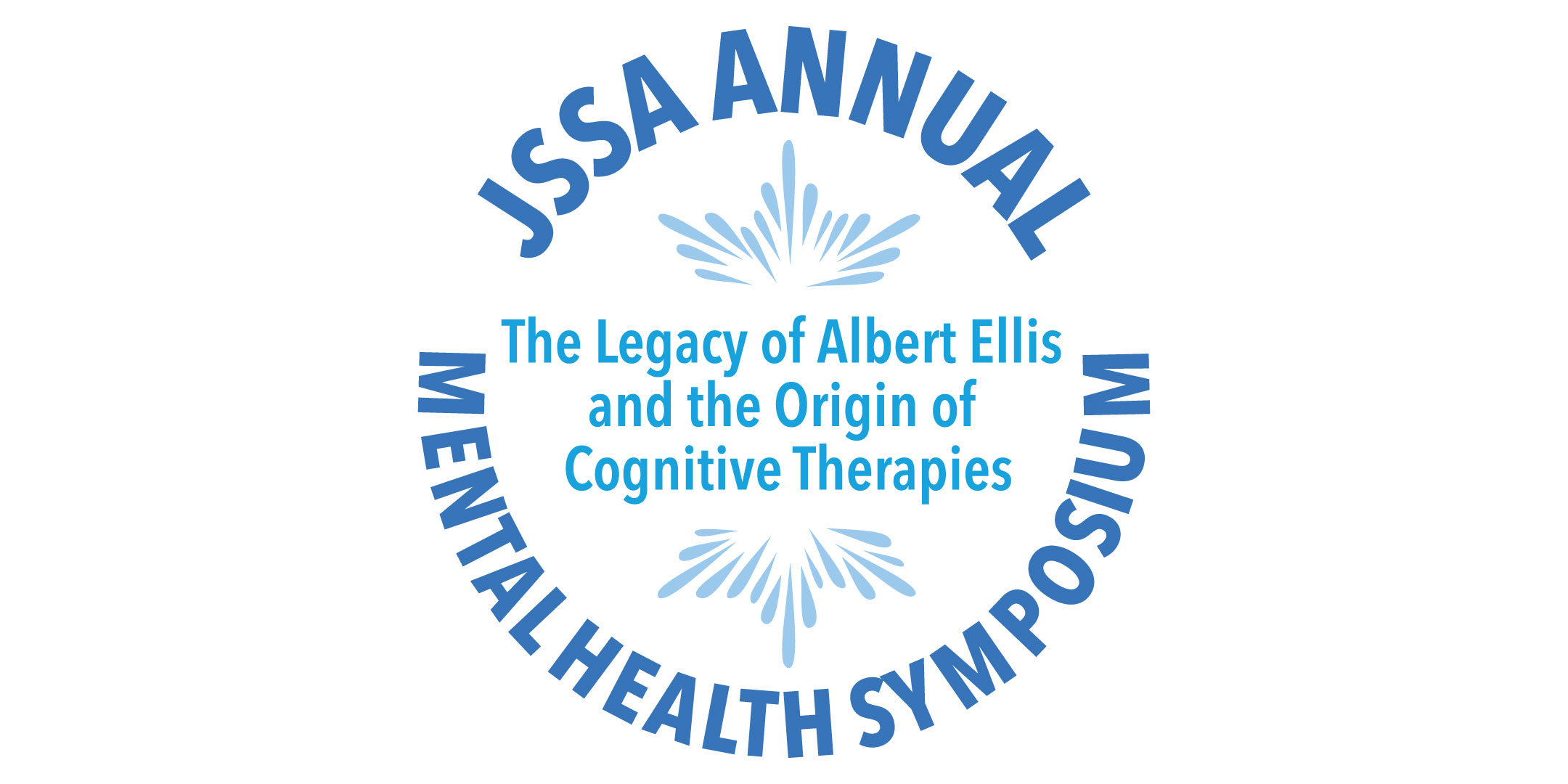 Registration opens at 8:30 a.m.
Program: 9:00 a.m. – 4:30 p.m.
Bender JCC of Greater Washington
6125 Montrose Road
Rockville, MD 20852
EARLY BIRD SPECIAL $100 UNTIL APRIL 30; $150 AFTER
This is an age of uncertainty. We live in a troubled world with many people suffering from hopelessness, anxiety and more serious mental disorders. With so much on violence, terrorism, and confrontation seen in our world, and fanaticism and religious intolerance growing, it is time to focus intently upon what psychology has to offer to encourage greater tolerance, and emotional and mental well-being in our everyday lives and society as a whole. REBT is an action-oriented approach to managing cognitive, emotional, and behavioral disturbances. According to REBT, it is largely our thinking about events that leads to emotional and behavioral upset. With an emphasis on the present, individuals are taught how to examine and challenge their unhelpful thinking which creates unhealthy emotions and self-defeating/self-sabotaging behaviors. REBT is the pioneering form of cognitive behavior therapy developed by Dr. Albert Ellis in 1955. His wife Dr Debbie Joffe Ellis is continuing their shared mission to help as many people as possible learn how to minimize emotional suffering and maximize joy in their lives.
*This is a CE training for mental health professionals and other health professionals.
SCHEDULE
8:30 – 9:00 AM: Check-in and Continental Breakfast
9:00 – 9:15 AM : Opening Remarks
9:15 – 10:15 AM: Keynote Address By Dr. Debbie Joffe Ellis
Keeping Buoyant, Steady and Empowered During Tumultuous 
Dr. Debbie Joffe Ellis is the Co-author of Rational Emotive Behavior Therapy. She is the wife of the late Dr. Albert Ellis and dedicates herself to sharing the life-enhancing and inspiring approach of REBT with as many people as possible. A clear and easy-to-understand approach, its application brings striking and beneficial results. Its efficiency is fueled by its pragmatic tools along with it philosophical backbone encouraging kindness and compassion.
10:30 AM – 12:00 PM: Panel Discussion
Practical Applications of the Various Cognitive Therapies
A moderated discussion with content experts in Dialectical Behavior Therapy, Schema Therapy, and Cognitive Behavior Therapy. Using a case scenario, subject matter experts will share the ways in which they approach and utilize techniques from a particular type of Cognitive Therapy. The experts will also provide their perspective on why they were drawn to a particular type of therapy technique and what it means for them to apply it in the diverse settings they work in.
Moderator: Joseph Wilson, LCSW-C, Senior Director, JSSA Mental Health Services
Panelists: Paul DelGrosso, LCSW-C, The Schema Therapy Institute of DC – Schema Therapy , Sara Meldon, PsyD, Wake Kendall – Dialectical Behavior Therapy, Hannah Gold, LCSW-C, JSSA – Cognitive Behavior Therapy, Miranda Morris, PhD – Private Practice
12:00 – 1:00 PM: Lunch and Networking
1:15 – 4:15 PM: Workshop – The Empowering, Evidence Based and Compassionate Approach of Rational Emotive Behavior Therapy
Presenter: Dr. Debbie Joffe Ellis
Description: Too many people suffer unnecessary emotional upset and misery when they believe that the events in their lives cause their emotional experiences, and do not realize that they have the power to create their emotional destinies no matter what adversities may befall them.
REBT is an active-directive approach, imbued with compassion, that contains the "How-to's" of living a life of abundant well being, passion, fulfillment and tranquility. In the workshop Dr Joffe Ellis will share the main principles of REBT, its tools and techniques, pivotal elements of the effective therapist and care-giver, the history and development of the approach, myths about it and what sets it apart from other therapeutic approaches. She will talk about it being a way of life, in addition to being a most empowering and powerful therapeutic approach, and welcome questions and discussion.
Attendees will be invited to participate in some exercises they do individually and in pairs, and a live demonstration of the approach will be given. Attendees will also see rarely viewed video of the late great Albert Ellis.
Learning Objectives: At the conclusion of this training, the participant will be able to:
1. Describe the main principles of REBT – including history and development
2. Identify the difference between healthy and unhealthy negative emotions
3. Identify the difference between rational and irrational thinking
4. Understand the unique elements of REBT